Keeping The Log & Timber Tradition Alive
Moreau Log & Timber has been traditionally handcrafting log homes since 1990 in southern Ontario. Our primary focus is not only to build log homes and log furniture that will last for generations but also to build long-standing relationships with all of our clients.
We take pride in being a small company that delivers big! Our clients have a life-long dream, years in the making, of building and owning a log home and Moreau Log & Timber has built a reputation of trust, quality and exceptional workmanship.
About Devin Moreau
Moreau Log & Timber is headed Devin Moreau, owner and master craftsman. There are very talented log home builders in Ontario and Devin has had the pleasure of learning and teaching along side some of them. Devin Moreau started his passion for Log home building at a very young age of 12. Draw knife in hand, peeling logs for a neighbor who was building a log home, he always had a good eye for the arts and after gaining experience, he started bringing forth his natural artistic flare to his clients.
The true measure of success for Devin comes from the repeat business from his customers and word of mouth referrals from satisfied clients.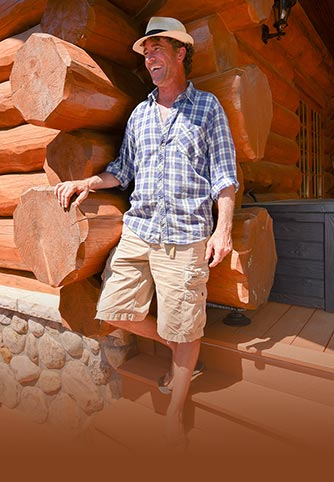 We take pride in offering you 33years experience in the log and timber industry!
Devin Moreau
Owner & Master Craftsman