How To Choose A Log Home
Log homes, bunkies and cabins are no different than cars or shoes! Each style has its own unique appearance and it really comes down to your own personal preference! Moreau Log & Timber has the same approach to any style of log home we design. We consider the client's needs (and wants!) as well as assess the lay of the land forest, water and access features and provide a solution truly unique to the client.
A Moreau Log & Timber built home isn't simply a summer toy. We take into consideration all aspects of the project prior to planning and construction. From weather conditions such as heat, cold, wind and rain as well as sun exposure and drainage. This is the level of detail, quality and workmanship you can expect from Moreau Log & Timber.
Most of our clients are often looking for that authentic log home appearance from a "vision" or from a fond memory.

– Devin Moreau
Whether your preference is the traditional round log look and feel for that authentic style and log cabin feel or a flat faced timber look that you get with the dovetail home. There is also chinking to consider which can breakup the solid wood wall and accentuates the natural lines of the logs. If you like the look of log and timber but a full log wall is not your style, then timber frame may be for you and this could be round log or dimensional timbers.
Already own a home or cottage and looking to give it that unique log & timber look? Using various log types and sizes and other timbers, we can add decorative log and timber elements.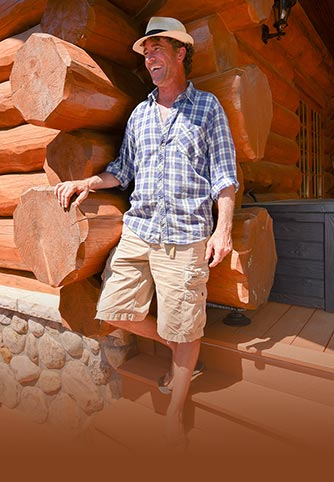 We take pride in offering you 33 years experience in the log and timber industry!
Devin Moreau
Owner & Master Craftsman
Recent Work
We are always updating our portfolio with new work! Check back often!